Goal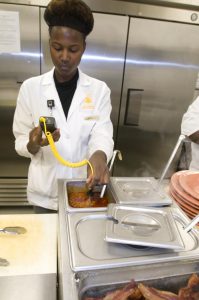 To reduce the occurrence of foodborne illness and to promote safe food practices within McDonough County.
How does the McDonough County Health Department ensure food safety for its citizens?
Sanitarians conduct inspections of food service and food retail facilities in McDonough County to determine compliance with the Illinois Food Service Sanitation Code. There are approximately 200 food service/retail facilities operating in McDonough County. View Inspection Results
Conducts food complaint/food incident investigations. To file a food complaint click here for an online form.
Responsible for Foodborne Illness surveillance in McDonough County.
Where can I get more information about food safety and food recalls?
FOOD SAFETY AT HOME