Now offering appointments for immunizations.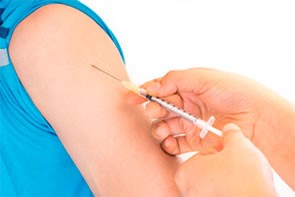 The McDonough County Health Department has a variety of immunizations for infants, children through age 18, and adults 19 and older.  You may contact us at 309-837-9951 ext 2270 to make an appointment.  Appointments are usually taken Monday and Tuesday mornings, and Thursday afternoons.  The health department accepts private health insurance, Medicaid/Medicare, and private pay for both children and adults to continue protecting individuals from vaccine-preventable illnesses.  Please bring a copy of your health insurance or Medicaid card if you wish to bill them.
Childhood Immunizations
Children with or without health care coverage can receive vaccines at McDonough County Health Department.
McDonough County Health Department participates in the Vaccine for Children program, which is federally funded and provides vaccines at no cost to children who might not otherwise be vaccinated because of inability to pay.  A child is eligible for the VFC Program if he or she is younger than 19 years of age AND is one of the following:
Medicaid
Uninsured
Underinsured
American Indian or Alaska Native
Adult Immunizations
Adults need to continue receiving immunizations throughout their lives.  Booster vaccinations and adult specific disease vaccinations allow for a healthier and improved quality of life.
Travel Immunizations
The McDonough County Health Department carries some travel immunizations for persons planning on leaving the country. Travelers should be vaccinated at least 4–6 weeks before the trip to allow time for vaccines to take effect.
Check out the vaccine schedules for children or adults.
https://www.cdc.gov/vaccines/schedules/index.html
Available vaccines include:
COVID-19 vaccinations
Chicken Pox
Haemophilus influenza type B (HIB)
Hepatitis A
Hepatitis B
Human Papilloma Virus (HPV)
Influenza (Flu)
Measles, Mumps, Rubella (MMR)
Meningitis
Polio
Prevnar 13
Shingles (adults 60 and older; 50 and older with physician's written order)
Tetanus (Td)
Tetanus, Diphtheria, and Pertussis
Typhoid