You can schedule an appointment here:
https://events.juvare.com/IL-IDPH/ivema/
If you are scheduling an appointment for the
clinic on 11/24/21 your child must be
available for their second dose at the same
time on Tuesday, December 21, 2021
---
 Illinois Department of Public Health removes
McDonough County from orange
warning status
IDPH is monitoring several indicators that measure the health burden of COVID-19 in each Illinois county and capture a county's ability to respond.  Many of these county-level indicators are similar to the Restore Illinois criteria and support that larger framework. These metrics are intended to be used for local level awareness of each county's progress during Phase 4 and will help local leaders, businesses, local health departments, and the public make informed decisions and promote healthy behaviors.
The county level metrics are presented as weekly values, based on Sunday to Saturday of the week prior to the update. Each metric is individually compared to a target value or expected trend over two consecutive weeks to evaluate the status of COVID-19 disease burden or resource capacity for timely awareness. The measures are evaluated collectively to determine if multiple indicators are at warning levels. By applying the same metrics to each county, IDPH is using a standardized approach to monitor the state as a whole. Each county will be assessed to determine whether it is meeting or exceeding each indicator target. Counties meeting set targets will be indicated in blue, while counties that are not meeting the targets will be indicated in orange.
For the week of 11-7-21 to 11-13-21
Community transmission remained high at 240 new cases per 100,000
Test positivity was 2.5%
ICU bed availability was over 20%
and the number of COVID-like illness emergency room visits was decreasing
---
McDonough County COVID-19 Dashboard
The McDonough County Health Department has updated the dashboard.  The case dashboard has been updated to include:
the % of vaccinated residents and to avoid duplication with data that is compiled by IDPH.  Additional data and statistics are available at: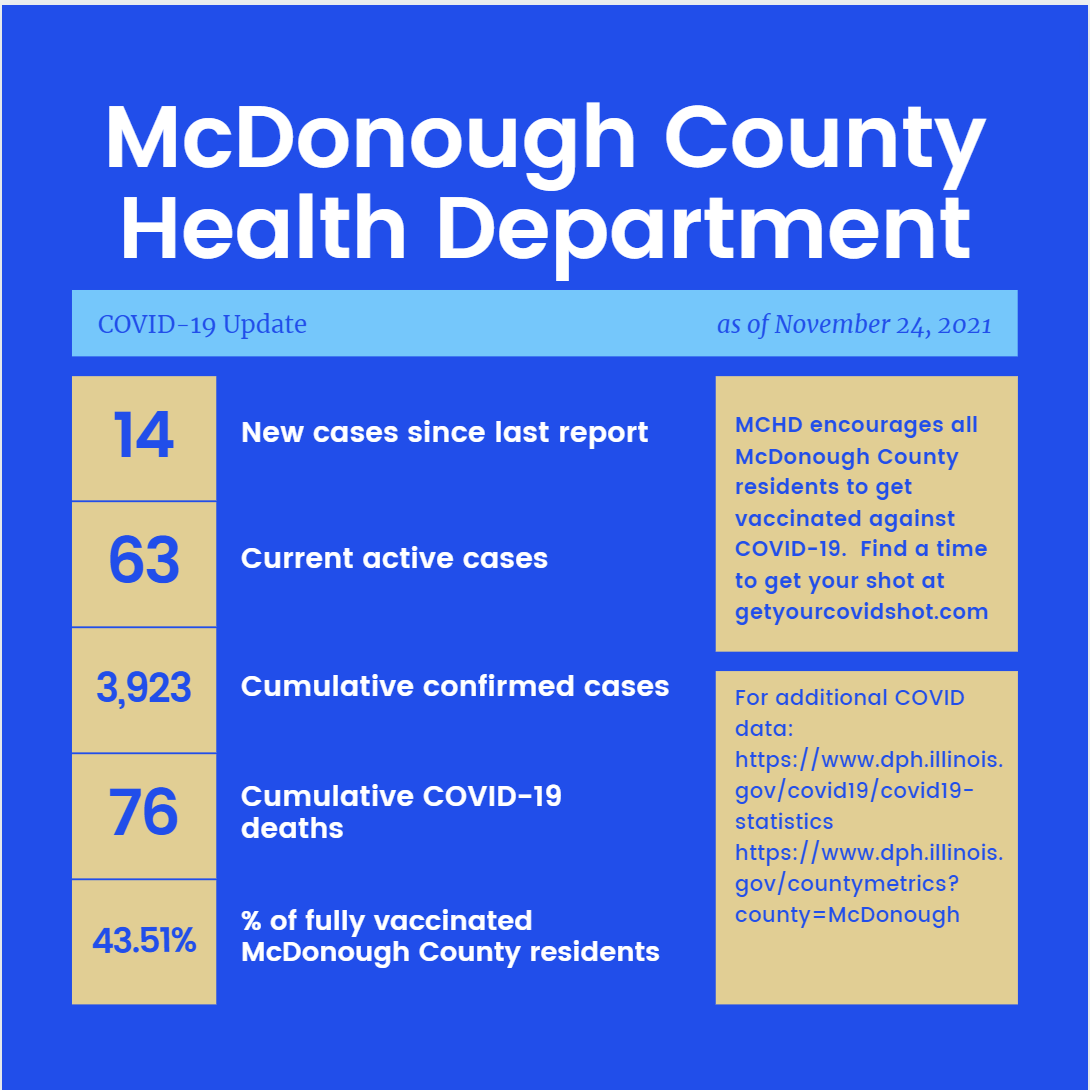 Contact tracing investigation is being conducted to follow up with close contacts and advise of potential exposure and steps they will need to take to monitor their health as well as any quarantine instructions. By tracing contacts, the individual had prior to the diagnosis, risk of additional transmission is reduced.
Vaccine data source: IDPH
Data is provisional and subject to change. Data source: Illinois National Electronic Disease Surveillance System:
COVID-19 Dashboard will be updated daily Monday-Thursday by noon