---
What does it mean when a County Moves to Phase 5?
Effective Friday June 11th. This marks a full reopening of all businesses and activities. This guidance will mean businesses, large-scale events, conventions, amusement parks, and seated-spectator venues, among others, will be able to operate at full capacity for the first time since the onset of the COVID-19 pandemic. This guidance comes as Illinois has recently reached a test positivity rate of less than 2 percent, more than half of the population has been fully vaccinated, and key hospitalization metrics have been declining since early May. 
Consistent with CDC guidance, fully vaccinated and non-vaccinated persons are required to wear a face covering in certain situations including (1) on public transportation, planes, buses, trains, and in transportation hubs such as airports and train and bus stations; (2) in congregate facilities such as correctional facilities and homeless shelters; and (3) in health care settings. 
The State is also lifting the outdoor mask requirement in schools in accordance with the Centers for Disease Control (CDC).
 Individuals in schools and day cares must also continue to wear face coverings per guidance issued by the 
Illinois State Board of Education,
Illinois Department of Children and Family Services
, and the Illinois Department of Public Health.
According to the 
CDC
, it is critical that schools use and layer 
prevention strategies
. Schools providing in-person instruction should prioritize two prevention strategies:
Universal and correct use of masks should be required; and

 
Physical distancing should be maximized to the greatest extent possible.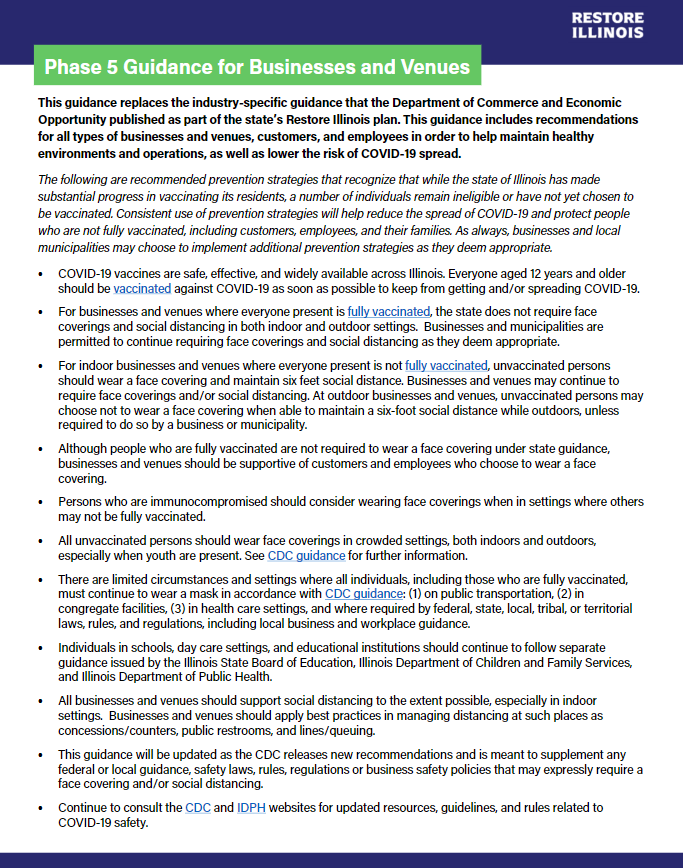 ---
These metrics are intended to be used for local level awareness to help local leaders, businesses, local health departments, and the public make informed decisions about personal and family gatherings, as well as what activities they choose to do. The metrics are updated weekly, from the Sunday-Saturday of the prior week.
A map and information of each county's status can be found on the IDPH website at dph.illinois.gov County Level COVID-19 Risk Metrics | IDPH
---
COVID-19 Vaccination Plan:
     

OPEN TO GENERAL PUBLIC 12+
We currently have first and second doses available of Moderna and Pfizer vaccines, and  
Johnson and Johnson available, which is a one shot fully vaccinated vaccine.
We now have third dose (Pfizer) available to those who are immunocompromised.
---
McDonough County COVID-19 Dashboard
McDonough county updates since 
Tuesday 9
/21/21:
Contact tracing investigation is being conducted to follow up with close contacts and advise of potential exposure and steps they will need to take to monitor their health as well as any quarantine instructions. By tracing contacts, the individual had prior to the diagnosis, risk of additional transmission is reduced.
Vaccine data source: IDPH
Data is provisional and subject to change
. Data source: Illinois National Electronic Disease Surveillance System: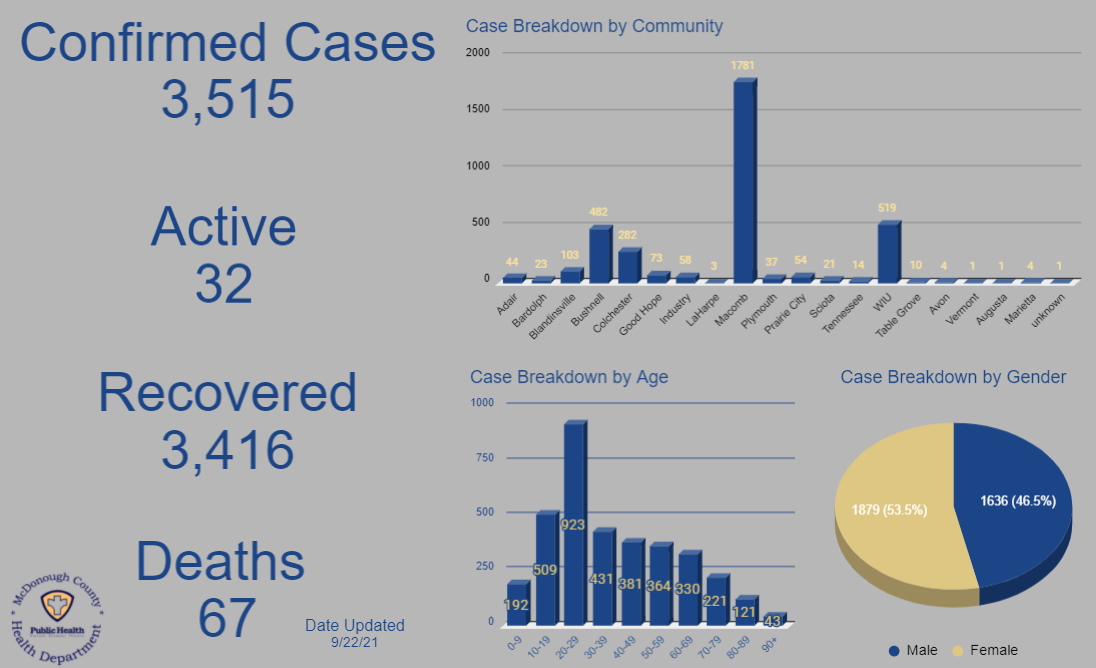 COVID-19 Dashboard will be updated daily Monday-Thursday by noon