---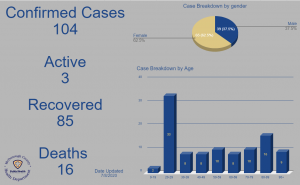 McDonough County is part of the North Central Region in Governor Pritzker's Restore Illinois Plan
The North Central region is currently in Phase 4 which allows bars and restaurants to offer indoor seating at limited
capacity, non-essential gatherings up to 50 people, all outdoor recreation is permissible and schools, daycares and
summer camps are allowed to reopen with safety guidance from ISBE, IDPH and DCFS.
For clarification on what is allowed under Restore Illinois Phase 4, see the available information from the
Department of Commerce and Economic Opportunity
MCHD continues to coordinate with local, regional, and state partners. Guidance documents
and information updates will be shared here on this web page, as well as our FaceBook page
Illinois Department of Public Health COVID-19 Daily Press Releases
The Centers for Disease Control (CDC) has created a Coronavirus Self Checker to help you make decisions and seek appropriate medical care.
General Information
What is COVID-19?
Coronaviruses are a large family of viruses that are common in many different species of animals, including camels, cattle, cats, and bats. Rarely, animal coronaviruses can infect people and then spread between people such as with MERS, SARS and now with COVID-19. Human coronaviruses are common throughout the world and commonly cause mild to moderate illness in people worldwide. However, the emergence of novel (new) coronaviruses, such as SARS and MERS, have been associated with more severe respiratory illness.
What are the signs and symptoms of COVID-19?
Symptoms are similar to other respiratory viruses. If you have these symptoms, it does not necessarily mean you have this new virus. Symptoms may include fever (may not always be present), cough, and shortness of breath or difficulty breathing. CDC believes at this time that symptoms of COVID-19 may appear in as few as 2 days or as long as 14 after exposure.
How can I protect myself from COVID-19 and other viruses?
Stay informed by checking CDC's website and its social media pages for the most recent information
Wash your hands often with soap and water for at least 20 seconds, use an alcohol-based hand sanitizer if soap is unavailable
Avoid touching your eyes, nose, and mouth with unwashed hands
Practice social distancing
Stay home except when absolutely necessary
If you do have to go out, wear a mask
Clean and disinfect frequently touched objects and surfaces
For additional preventative tips, visit CDC's Prevention and Treatment webpage.
Page last updated 7/8/20 4:28 PM